One of the many modular structures you can add to your home is the prefab garage. In fact, adding a garage is a cheap and easy way to increase the value of your property. In less than a week you can expand storage space and boost the market price of your house with the purchase of a prefabricated garage.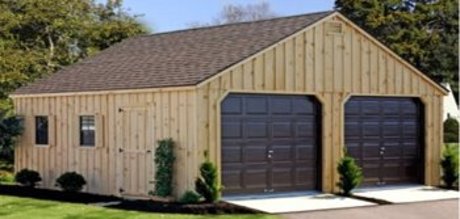 Prefab garages vary in size, dimension, and complexity. While a two car garage is the most popular, manufactured building companies offer a wide range of options from one car to ten car models. Once you decide which model best suits your property, you can customize your garage in a number of different ways.
Modular garages can be built with or without a floor or foundation. They can have windows and service doors or none at all. The garage doors can be opened by chain drives, screw drives, belt drives or manually opened. Your prefabricated garage can include electrical wiring and insulation or neither of these things. You can choose from a variety of materials and varying levels of security. Your garage is constructed to your specifications and many modular builders will work with clients to ensure the design matches in color and style to your house.
Whether your house is factory built or constructed by traditional methods, adding a modular garage will only increase the attractiveness of your home. A garage gives you protective cover for your cars and extra space to store tools and gear. Best of all, it increases property value when the time comes to sell.